Waste-to-energy
URL:
Vermont Experiments in Cow Power
A recent case study in the State of Vermont suggests that deriving electricity from cow manure may be economically feasible. This small and largely agrarian state has no shortage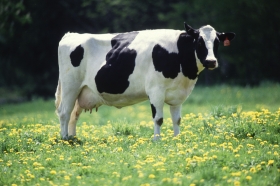 of cows and dairy farms. It is conceivable that with the proper commitment from farmers, utilities, and government agencies, cow power could be a central part of the Vermont electric grid. The seven-year study was conducted by six dairy farms, and produced 12 million kilowatt hours of electricity per year.
The six dairy farms participated in the Central Vermont Public Service (CVPS) Corporation's Cow Power program. Energy consumers can choose to purchase their power from the participating farms, making it feasible for farmers to create their electricity. The farms operate generators that run on methane from cow manure, a renewable energy source and a beneficial use of an otherwise hazardous waste.
Read more
Related Links
These links may be helpful in finding more information about sustainability, clean energy, and local agriculture.
www.25x25.org
bsisat.jmu.edu
www.jmu.edu/ieer/
www.vowcoalition.org
www.radicalrootsfarm.com
www.stauntongreen2020.org
www.friendlycityfoodcoop.com
transitionstaunton.org
www.fredoesch.com
www.hrccc.org/
www.dom.com/dominion-virginia-power/customer-service/energy-conservation/green-power.jsp
www.jmu.edu/stewardship/
http://www.virginia.edu/ien
National 25x'25
Clean Energy Advocates Can Use Presidential Campaign to Vet Candidates, Shape Policy
Renewable Energy Production Growing Despite of Obstacles
A Look Back at 2011 Brings With It a Commitment to 2012
'Climate-Smart' Agriculture Includes Accelerating Renewable Energy
Level the Playing Field for All Energy Sources
Renewable Energy World
After December Spike, PV Module Prices Set to Decline in 2012
Solar Getting Cheaper, But Not Equally
There is "No Evidence" that Wind Turbine Syndrome Exists, Concludes Expert Panel
Construction to Move Forward on NaturEner Project in Montana with Unique Financing
Making Way for a Bigger Turbine